Maxwell Johnson Researches Esmont Village History: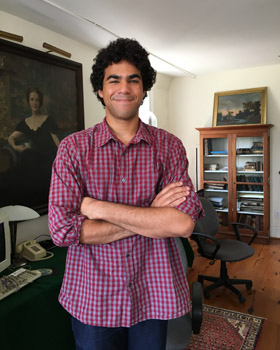 Recently, Maxwell Johnson (shown at right), our Summer 2018 intern from UVA's Institute For Public History, briefed the Museum's Board of Trustees regarding his progress on researching the history of Esmont village at UVA Special Collections, Albemarle County Historical Society, Albemarle County Land Records, and Scottsville Museum. In addition, Maxwell also photographed many of the historical sites in the Esmont village that includes Keene, Porters District, Chestnut Grove, Esmont, and Sand Road in Alberene. Currently, Maxwell is finalizing his report on the history of the Esmont village and has also developed an interactive digital map (ArcGIS) of the Esmont village which includes photos and information on the churches, homes, schools, and stores. The results of Maxwell's historical research on the Esmont village eventually will be added to the Scottsville Museum's website (https://scottsvillemuseum.com/) where it can be accessed by all. Stay tuned here for further details on the availability of this Esmont village history to our readers!

Scottsville Museum wishes to thank Maxwell for his excellent historical research and dedication to our Esmont village project. Additionally, the Museum sends profuse thanks to the Mellon Foundation, who funded Maxwell's internship this summer, and to Lisa Goff, Director of the Institute For Public History who identified this funding for the Museum. Thank you, Mellon Foundation, Lisa Goff, and Maxwell Johnson!

The Freight Boat, Lizzie of Scottsville, Nears Completion at Canal Basin Square




The Lizzie, a Canal Freight Boat Replica at Canal Basin Square (CBS) in Scottsville


This past May, the Town of Scottsville contracted with Doug Hurr to build a small class, open deck freight boat to be named the "Lizzie of Scottsville." The Lizzie will fill the third and final slip in the CBS plan. The Lizzie was originally built at the Tutwiler boat house just down the street from CBS during the days of the James River and Kanawha Canal. The new version of this boat is being built by Doug Hurr with the assistance of volunteers, Frank Sherwood, Kit Decker, and John Bowers and is expected to be completed at the end of August 2018. Additionally, Jeff Falls of Richmond built and donated a 4'x4' replica of a hogshead for display with the Lizzie.

During canal days, mules towed the freight boat up and down the canal. A driver walked alongside the mule or rode the rear mule as the animals walked along the canal's towpath. The mules were changed regularly; relief mules were stabled on the boat. A steersman rode on the boat to guide it safely along the canal and to blow a horn to signal each lock keeper to prepare the lock to receive the boat as it approached.


Lizzie's Crew Cabin, Rudder, and Tiller Hogshead to hold tobacco to and from the Lizzie



Hogsheads of tobacco and grain were carried on the decks of such freight boats as the Lizzie. Smaller and lighter freight was loaded below deck via the two hatches on its deck; see Lizzie's hatches in the larger photo above.

Scottsville Museum and canal history buffs wish to thank the Town of Scottsville, Mr. Hurr, and the many volunteers who assisted him in building the Lizzie. A job most well done and a tremendous visual addition for everyone wanting to learn more about Scottsville's canal days! Town visitors and citizens, do come see all of the interesting canal history on display at Canal Basin Square!!

Children of John Lacy Morris Sr., and Daisy (Callahan) Morris of Morrisena:

Shown at right are the children of John Lacy Morris, Sr. (1881-1940) and Daisy Holmes (Callahan) Morris (1881-1967) in 1918. This family lived at Morrisena, the home which was built along the branches of Totier Creek near Warren, Virginia. Morrisena has been the home of the Morrises since it was granted in 1747 to their ancestor Hugh Morris (1727-1805) by King George II and witnessed by Sir William Gooch, Colonial Governor of Virginia. To learn more about the Morris family and Morrisena, visit:


The Family of John Lacy Morris, Sr., and Daisy (Callahan) Morris

Family of John Taylor Morris and Lelia B. (Lacy) Morris

Morrisena

John Lacy Morris, Jr.

James Taylor Morris

The Scottsville Sun Online!

Scottsville Museum is pleased to announce that 40 editions of the 1952 Scottsville Sun newspaper are now online on our website! During this past summer, Scottsville resident, Robert K. Spencer, shared his collection of these newspapers for scanning and research use by the Museum. Nicole Penn, our 2015 intern from the University of Virginia's Institute for Public History (IPH), scanned Mr. Spencer's newspapers for the Museum and created finding aids for each newspaper dating from 1952-1960s. Museum staff just completed processing the 1952 newspapers for online use and will continue processing the rest of the newspapers for upload to our website over the next few months.

The Scottsville Sun was organized in October 1951, thanks to the efforts of Scottsville's Lions Club, and was published by the Amherst Publishing Company. The newspaper's first editor was J. Bernard McDearman, and its first managing editor was Elizabeth Wimer. As a newspaper dedicated to serving the Scottsville community living in Albemarle, Fluvanna, and Buckingham counties, the Scottsville Sun covered local news and events in addition to publishing columns on subjects ranging from politics, to farming techniques, to housekeeping advice. This newspaper maintained a circulation of roughly 500 to 1000 readers, and was active from 1951 into the 1960's.

Kudos to Nicole for her excellent internship product, and special thanks to UVA's Music Library which allowed Nicole to use their large format scanner to complete our project! To learn more about this project and view scanned images of these newspapers, please visit: The Scottsville Sun.

Business Ledgers of Scottsville Area, 1817 - 1926: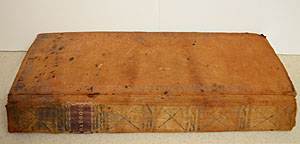 Shown at right is the Fleming Turner Daybook, dated 1822-1827, that details the products and daily costs of Mr. Turner's farm in New Canton, Buckingham County, VA. This ledger is one of approximately 45 historic ledgers of local farms and businesses for the time period 1817 - 1926 which are preserved in the collections of Scottsville Museum. Thanks to the dedicated efforts of Sydney Morgan and Julia Spong, Institute for Public History interns at the Museum in 2012-2013, these ledgers were photographed and collection finding aids developed for 20 of them. Each ledger includes an inventory of the ledger contents, a detailed name index of business and patron names, and the research results on the farm and/or business owner who recorded transactions in that ledger. These finding aids have been added to our Museum website, and to learn more, please visit, Ledgers.

New Educational Activities For Kids: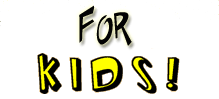 Scottsville Museum is proud to announce we have added new educational activities to our web site for children in Grades 3 and 4. These activities are based on six selected themes in Scottsville's history from 1732 to present: The Monacans; A Community Begins (1744-1762); Batteau Era; Canal Era (1830-1881); Civil War (1861-1865); and Floods. These activities were created by Rachel Gottlieb, a former Institute For Public History intern at the Museum, who earned a Masters of Teaching from the University of Virginia. Rachel's online educational materials include a teacher's guide, historical fact sheets for each theme, and activities that may include role playing, critical thinking, comparing and contrasting exercises, and matching games. Rachel geared these activities to Virginia's Standards of Learning (SOL) for Grades 3 and 4. These activities will be available online for parents and teachers seeking supplemental educational materials to teach local Virginia history, geography, government, and critical thinking. Thank you, Rachel, for sharing your superb teaching skills with students of Albemarle County history!

To explore these new educational activities for kids, please visit More Activities.