Funeral of Reverend Robert Roosevelt Parson (1932-2022), 25 June 2022
It is with great sadness that we report the passing of Reverend Robert Roosevelt Parson, 89, of Scottsville, on Sunday, June 19, 2022. Rev. Parson graduated from Buckingham Training School in Dillwyn and served as a M.A.R.S. radio operator and radio interceptor in the Air Force from 1953-1957. After completing his military service, he became a Baptist Minister at the Community Baptist Church in Buckingham and married his first wife, Lular Moore Parson. Rev. Robert and Lular Parson were volunteers at Scottsville Museum for many years. After Lular's passing, Rev. Roberts married his second wife, Joy R. Russell Parson. Our President Evelyn Edson has fond memories of seeing Rev. Parson driving his truck in a July 4th parade in Scottsville with his four beautiful daughters waving to the crowd from the back of the truck. To learn more about Reverend Robert Roosevelt Parson's life, visit:
Robert Roosevelt Parson

Reverend Parson's funeral will be held on Saturday, June 25, 2022, from 12:30-1:45 pm at the Thacker Brothers Funeral Home in Scottsville, with funeral services following at 2 p.m. Internment will be at Mount Pleasant Baptist Church, 6456 Esmont Rd., in Keene, VA.

Batteau Day in Scottsville, 22 June 2022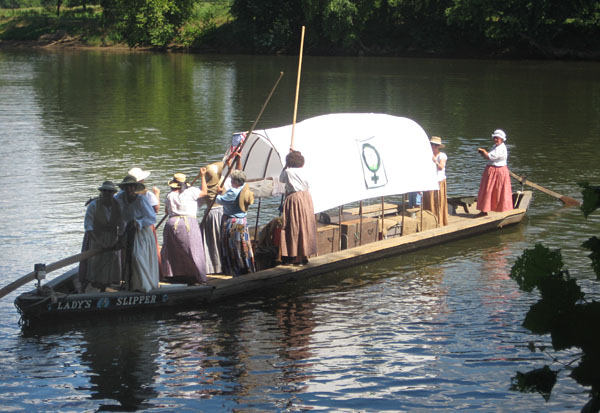 Lady's Slipper Batteau in Scottsville, 2010


The annual James River Batteau Festival makes a stop in historic Scottsville, Virginia, on Wednesday, June 22nd. The highlight of this FREE, family-friendly festival is the afternoon arrival of a flotilla of 15-20 historic replica, hand-crafted "batteaux"...long wooden, flat-bottomed, poled boats that were once used to ferry tobacco, grain, other goods, and passengers on the James River. Each batteau carries a full crew, dressed in period costume.

Scottsville is the halfway point of the 120-mile river journey from Lynchburg to Richmond, which takes eight days. The batteaux will dock at designated locations along the route, and the crew will camp out each night along the James riverbank. The Scottsville Batteau Festival is a town-sponsored event that draws welll-wishers and visitors from throughout the region. There will be a variety of activities...including an acoustic bluegrass jam, traditional artisans and crafters, food vendors, historic re-enactors, special exhibits, walking tours, and more!

Part of the mission of the James River Batteau Festival is to preserve the heritage of this historic mode of river transport that was a vital presence on America's Founding River from 1775-1840. The shallow-draft batteau boats allowed for easier access to trade routes that supplied goods to our nation and expansion to the western frontier. At one point, there were more than 500 batteaux plying the waters of the James River.

Scottsville Museum will be open on Batteau Day from 1-6 pm, with our feature exhibit: "Where the River Bends." We hope to see you in Scottsville on Batteau Day, 22 June!

Please also take a self-guided tour of Canal Basin Square (249 Main Street, Scottsville, VA), a year-round, outdoor Transportation History Park, on the site of the old James River and Kanawha Canal Turning Basin. See also: Canal Basin Square.

50th Anniversary of Hurricane Agnes in the U.S. Approaching, June 2022
Half a century ago, in late June 1972, one of the most devastating and historic hurricanes the United States had experienced formed in the Gulf of Mexico. Hurricane Agnes made landfall as a Category 1 storm and caused significant and widespread damage throughout the Mid-Atlantic.

Rainfall from Agnes caused catastropic inland flooding, the geographic scale of which had not been seen in decades. Tragically, 128 people lost their lives across eight states, including 50 in Pennsylvania, 21 in Maryland, 14 in Virginia, and one in Delaware. Across the eastern United States, more than 362,000 people were forced to evacuate their homes due to the flooding including 222,000 in Pennsylvania alone.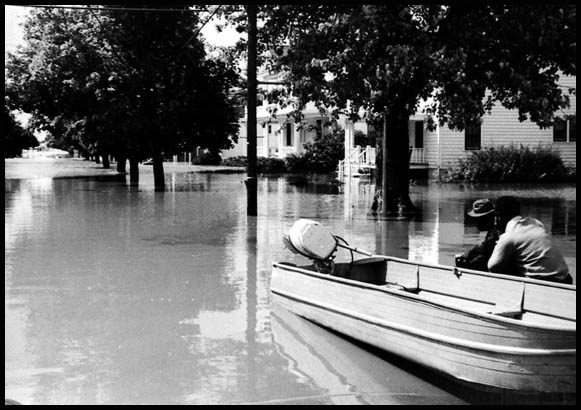 Flooded Main Street in Scottsville, July 22, 1972.

Photo courtesy of Raymon Thacker.


Hurricane Agnes struck Scottsville with disastrous results on July 22, 1972. Bruce's Drugstore on Valley and West Main Streets went under more than 12 feet of water as the ensuing flood crested at thirty-four feet. Cleanup costs on top of unpaid 1969 debts put some local businesses in real trouble. Talk of moving the town to higher ground and abandoning buildings in the flood plain was everywhere.

As we approach the 50th anniversary of this significant storm Agnes and enter Atlantic hurricane season, FEMA is encouraging everyone to learn more about their flood risk and take actions now to be prepared for threats of the future. With climate change, extreme rainfall and flooding events are becoming more common, and lessons learned after storms like Agnes will be even more valuable.

To learn more from the past and prepare for the future, visit the following website, sponsored by the Silver Jackets multi-organizational team, at: "50th Anniversary of Hurricane Agnes" at https://agnes50-noaa.hub.arcgis.com/

Thanks to Jack Maxwell of Scottsville's Task Force 17 for highlighting this historical information about the impact of Hurricane Agnes on Virginia contained on this website (see link above), which was produced in collaboration with local, state, and federal (FEMA) partners.

Minerva Lewis Marker Dedication 19 June 2022
Matt Lawless, Scottsville Town Administrator, shared an update and invitation to everyone to come and attend the Minerva Lewis Marker Dedication on Sunday, June 19, 2022, from 3pm to 4pm at the Scottsville Town Market. He asked us to please spread the word: "Our community has supported Black history research, notably the story of Ms. Minerva Lewis and her family. A hundred years ago, she was the only Black female property owner in Scottsville. We've confirmed all the historical details and can now dedicate a marker in honor of her family and the Black community here. The marker is in production at a foundry, and the northeast corner of the Lewis property will become a shaded place of reflection.


Minerva Lewis Marker Dedication
Sunday, June 19th, 2022
3pm to 4pm
Scottsville Farmers Market



In 1901, Scottsville had only one Black woman-owned property, a store which is now a parking lot for Scottsville's farmer's market. In 1870, Mr. Washington Lewis was a Black merchant, who deeded the land to his wife, Minerva, as a gift. In 1911, Ms. Minerva Lewis sold it to the Dorrier patriarch (his son Lindsay became an Albemarle Supervisor) for $1,000 - a Great Migration type of transaction, as the family was gone from the 1910 Census, and the deed of sale specifically renounced all of the Lewis children's claim.

To learn more about Minerva Lewis and see photos from her marker dedication ceremony, visit: Minerva Lewis Marker Dedication, 19 June 2022

Race Unity Day in Scottsville, 12 June 2022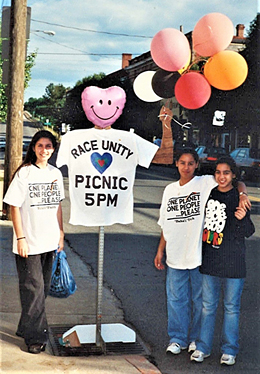 . On Sunday, June 12, 2022, Race Unity Day is being held in Scottsville and is a special holiday in the calendar of the Baha'i Faith, a religion founded in Persia in the 19th century. The Baha'is believe in the oneness of humanity and devote themselves to the abolition of racial class, gender, and religious prejudices.

Chris and Judy Wade came to Scottsville in 1974 as Homefront Pioneers of the Baha'i Faith. They were from California where the Faith was well established and so they transplated themselves to Virginia to spread the word. In 1984, they began to celebrate Race Unity Day with an interfaith picnic in Scottsville, joined by local church members and the Southside Fellowship. Visitors to the Race Unity Day picnic received a smiling welcome as always from the balloon man at the curb. In this balloon man photo at left above, the balloon man stands with members of the Northern Virginia Baha'i Youth Workshop dance team.

To learn more about Race Unity Day in Scottsville, visit: https://scottsvillemuseum.com/events/homeCWade01.html .