Honoring Raymon Thacker at Spring Opening, 08 April 2018:

| | |
| --- | --- |
| | |
| Raymon attending Scottsville Primary School, 1917 | Raymon at Scottsville's completed levee, 1989 |
The Scottsville Museum opened for the 2018 season on Sunday, April 8, at 2 p.m. At that time a resolution was unveiled, honoring A. Raymon Thacker for his many contributions to Scottsville and especially to the preservation of its history. Attending the ceremony were Raymon's wife, Arbutus Thacker, and their son and daughter-in-law, Matthew and Donna Thacker (in front row of photo at right below), and many members of the Scottsville community; see photos below:
Born in Stuarts Draft in 1909, Raymon arrived in Scottsville via horse and wagon at the age of 2, when his father was hired to run the grist mill. Raymon attended primary school first at the old schoolhouse on Jackson Street and then at the small frame building on Bird Street. He loved running errands for the older men in town who gathered to talk. Raymon listened to their stories of fighting in the Confederate Army, remembering everything and becoming our official memory bank, part of the texture that holds the town together.
Raymon and his brother, Homer, established themselves in the funeral business, which they ran for 57 years. Raymon was deeply involved in every aspect of life in Scottsville, helping to start an ambulance service, and founding the Volunteer Fire Department, the local Lions' Club, and the Scottsville Museum. Raymon was a member of the Museum Board from its founding until the end of his life, and he played an active role in all of its activities.
Raymon learned about politics working with Scottsville's mayor, and in 1966, Raymon was elected mayor himself, a position he held for thirty years. Raymon was the longest serving mayor in Scottsville's history and the longest serving mayor in the history of the Virginia Commonwealth. Raymon's most important accomplishments as Scottsville's mayor include the boundary adjustment with Albemarle County to increase the size of the town; and the construction of the levee, which protects the old town from flooding by Mink Creek and the James River. The A.R. Thacker Levee opened in 1989.
To see additional photos of the Thacker tribute at Scottsville Museum, visit 2018 Spring Opening.


Packet Boat Ribbon-Cutting Ceremony at Canal Basin Square, 08 April 2018:

L to R: Jennifer "Pele" Prescott, Elizabeth Knotts, Tim Small, John Bowers, and Frank Sherwood.


Following the Thacker ceremony at Scottsville Museum, attendees gathered across the street at Canal Basin Square (CBS) to celebrate the completion of a James River Canal packet boat. Mayor Nancy Gill noted that Raymon Thacker's influence can be found in both the Museum and the CBS park, which includes installations about the historic flooding in the '60s and '70s and the levee. Additionally, the Museum and the packet boat project depend heavily on volunteers support.

Construction on the packet boat at CBS began on June 2, 2006, using Captain Dick Woolling's Packet Boat as its model. The volunteer team was led by Tim Small and included John Bowers, Barry Grove, Jesse Grove, Vanya Grove, Bill Hyson, Bill Schneider, Barry Long, Michael Tocci, Steve Phipps, and Bill Cooper. In 2017, Doug Hurr won the Town's contract to complete the construction of this canal boat which occurred earlier this year.

To see more photos of the Canal Boat celebration at CBS, visit: Ribbon-cutting Ceremony for CBS Packet Boat.

MARK YOUR CALENDAR - Tribute to Raymon Thacker, 08 April 2018: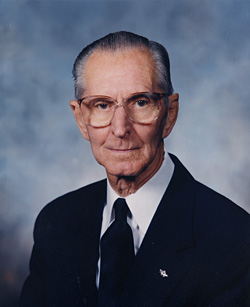 The Scottsville Museum will open for the 2018 season on Sunday, April 8, at 2 p.m. At that time a resolution will be unveiled, honoring Raymon Thacker for his many contributions to the town and especially to the preservation of its history. Mr. Thacker was a member of the Museum Board from its founding until the end of his life, and he played an active role in all of its activities. All are welcome. Refreshments will be served.
The ceremony at the Museum will be followed by the ribbon-cutting for the newly reconstructed canal packet boat at Canal Basin Square. This event will be followed by live music.
The Museum will be open weekends from April through October, Saturdays from 10 to 5 and Sundays from 1 to 5. Admission is free.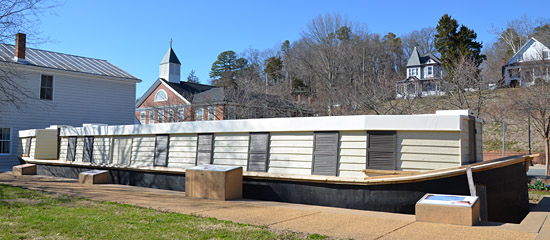 New packetboat at Canal Basin Square in Scottsville, March 2018
Highlights, March 2018

Docent Reception, 19 March 2018:


Docents (L to R): Cindy Graff, Callie Bowers, and Doris Holt, 2018 Docents at Scottsville Museum;

Leanne Grove, Docent Coordinator for Scottsville Museum, hosted an appreciation reception for Museum docents at her Scottsville home on Sunday, March 19. A wonderful afternoon of friendship and museum discussion ensued. Leanne reviewed opening and closing procedures for the Museum and the training sessions she's planning for new docents to include a session for any docents who would like some refresher training. Our President Evelyn Edson discussed the Museum's opening for the 2018 season on Sunday, 8 April at 2 pm. She also briefed us on the commemorative resolution, which will be on display at the Museum and honors former Mayor Raymon Thacker's many contributions to the town of Scottsville . We are pumped up for the 2018 season -- thank you, Leanne and Evelyn!

Leanne Grove and Evelyn Edson (L to R)

Each year over forty volunteers volunteer their time each month to serve as docents at the Museum. Our docents' donation of time allows the Museum to continue our free admission policy for the public from April through October each year. If you would like to become a Museum docent, please call Leanne at (434-286-4840) or contact us via e-mail at: smuseum@avenue.org.

To see additional photos from the Docent Reception, visit 2018 Docent Reception.





Highlights, February 2018

High Waters on the James at Scottsville, 12 February 2018:


Run-off from a 3-inch rainfall over the past weekend flooded Scottsville's recreation area by the

James River bridge.

During the weekend of 10-11 February, Scottsville received much needed rain after a very dry weather period that stretched through December-January. In total, this weekend's rainfall measured about 3 inches. Monday afternoon, 12 February, I drove down Valley Street, and as I approached East Main Street, I noticed pedestrians walking up the sidewalks over the bridge. This is not unusual in the spring and summer, when the sun is shining and the view along the James River is spectacular! But on Monday, the sky was overcast, and the temperature was in the 40's. Hmm-m-m-m-m, I thought to myself -- wonder if the river water is high from rain runoff?

Catering to my curiosity, I drove east on Main Street and turned on Ferry Street to check out the river from the boat landing at the end of that street. As I approached the open gate through the levee, I spotted more people standing ahead of me taking photos of the river. To my right was the above scene of a totally flooded picnic area by the river --- not a table or walking path or grass could be seen due to the flood water. The Town's official measuring post for such flood water showed the water was up to the 16 ft. level -- wow! This experience made me really appreciate how Scottsville has been impacted throughout our history by flood waters on the James. True, Monday's runoff hadn't reached the level that would reach downtown Scottsville, but if it had, we fortunately now have a levee with floodgates to permit human traffic to and from the river during normal water levels. And at times of high water levels on the James, the levee gates are closed to prevent flooding in Scottsville.

Monday's high waters along the James made me once again greatly appreciate the tireless work of Mayor Raymon Thacker and the Town Council to obtain federal funding to build a dam on Mink Creek and a flood levee which has held back flood waters on the James since 1985. Thanks so very much, Raymon and our Town Council!

As an addendum: On Wednesday, 14 February 2018, the current flood waters, as depicted in the above photo, had subsided by several feet. The picnic grounds there by the river are slowly reappearing as the flood waters subside. Yay!!

Additional Research on Local WWII Veterans:


Over the past two months, Scottsville Museum completed additional research on World War II veterans from the Scottsville area. Our current WWII Veterans web pages have been updated with this additional research information, and 26 more veterans have been added to our web site. We have been impressed with the number of local families, who sent multiple sons and daughters to the U.S. military to support the war effort, namely, the Dorriers (5), Babers (5), Bolings (4), Eastons (5), Johnson (5), McGuire (4), Moon (4), Townsend (5), Trice (6), and Wakefields (4).

Among the 186 WWII Veterans from the Scottsville area researched to date are 14 soldiers, who were killed in action, and include the three soldiers above, Walter Watson Murray, Gilbert Leslie Johnson, and Benjamin Douglas Anderson. Three more local soldiers died in WWII from non-battle causes (George G. Anderson, James A. Brown, and Rockwell Swingler), and two of our soldiers, Thomas J. Bugg and Herbert Morris Baber, were captured in Germany and imprisoned in POW camps in Silesia (now Poland). One soldier from Esmont, Frank Dabney Peregoy, died on June 14, 1944, during the Normandy invasion. Frank was awarded the Medal of Honor for his 'extraordinary gallantry and agressiveness' during intense hedgerow battles that ensued as his 117th Div. attacked the German defenses at Grandcampe-Maisy, France.

The efforts and sacrifices of our WWII soldiers helped our country win the war, and they will never be forgotten. To learn more about these WWII veterans from the Scottsville area, visit WWII Veterans.

If any of our readers have additional information about Scottsville area veterans of WWII, we would love to learn more. Please contact us at smuseum@avenue.org and tell us more. Many thanks in advance!

The Scottsville Sun Online!


Scottsville Museum is pleased to announce that 40 editions of the 1952 Scottsville Sun newspaper are now online on our website! During this past summer, Scottsville resident, Robert K. Spencer, shared his collection of these newspapers for scanning and research use by the Museum. Nicole Penn, our 2015 intern from the University of Virginia's Institute for Public History (IPH), scanned Mr. Spencer's newspapers for the Museum and created finding aids for each newspaper dating from 1952-1960s. Museum staff just completed processing the 1952 newspapers for online use and will continue processing the rest of the newspapers for upload to our website over the next few months.

The Scottsville Sun was organized in October 1951, thanks to the efforts of Scottsville's Lions Club, and was published by the Amherst Publishing Company. The newspaper's first editor was J. Bernard McDearman, and its first managing editor was Elizabeth Wimer. As a newspaper dedicated to serving the Scottsville community living in Albemarle, Fluvanna, and Buckingham counties, the Scottsville Sun covered local news and events in addition to publishing columns on subjects ranging from politics, to farming techniques, to housekeeping advice. This newspaper maintained a circulation of roughly 500 to 1000 readers, and was active from 1951 into the 1960's.

Kudos to Nicole for her excellent internship product, and special thanks to UVA's Music Library which allowed Nicole to use their large format scanner to complete our project! To learn more about this project and view scanned images of these newspapers, please visit: The Scottsville Sun.

Business Ledgers of Scottsville Area, 1817 - 1926:
Shown at right is the Fleming Turner Daybook, dated 1822-1827, that details the products and daily costs of Mr. Turner's farm in New Canton, Buckingham County, VA. This ledger is one of approximately 45 historic ledgers of local farms and businesses for the time period 1817 - 1926 which are preserved in the collections of Scottsville Museum. Thanks to the dedicated efforts of Sydney Morgan and Julia Spong, Institute for Public History interns at the Museum in 2012-2013, these ledgers were photographed and collection finding aids developed for 20 of them. Each ledger includes an inventory of the ledger contents, a detailed name index of business and patron names, and the research results on the farm and/or business owner who recorded transactions in that ledger. These finding aids have been added to our Museum website, and to learn more, please visit, Ledgers.

New Educational Activities For Kids:
Scottsville Museum is proud to announce we have added new educational activities to our web site for children in Grades 3 and 4. These activities are based on six selected themes in Scottsville's history from 1732 to present: The Monacans; A Community Begins (1744-1762); Batteau Era; Canal Era (1830-1881); Civil War (1861-1865); and Floods. These activities were created by Rachel Gottlieb, a former Institute For Public History intern at the Museum, who earned a Masters of Teaching from the University of Virginia. Rachel's online educational materials include a teacher's guide, historical fact sheets for each theme, and activities that may include role playing, critical thinking, comparing and contrasting exercises, and matching games. Rachel geared these activities to Virginia's Standards of Learning (SOL) for Grades 3 and 4. These activities will be available online for parents and teachers seeking supplemental educational materials to teach local Virginia history, geography, government, and critical thinking. Thank you, Rachel, for sharing your superb teaching skills with students of Albemarle County history!

To explore these new educational activities for kids, please visit

More Activities.

Events Calendar

To view calendar events for the 2018 season, visit

Calendar.