2018 Maupintown Film Festival, 13-15 July 2018:
The 2018 Maupintown Film Festival will take place on July 13-15 at the Jefferson School African American Heritage Center in Charlottesville, Virginia (233 4th St NW Fl 2, in Charlottesville). This annual event focuses on showcasing stories of African-American history and culture through film. This year's theme is "Aware of the Evidence", as the Festival covers the history of black film, local Charlottesville area history, black women in suburbia, African American art, the history of Pullman Porters, and more.

To see the list of 20 feature length and short films to be shown at the Festival, visit Aware of the Evidence.

Tickets to see these films are at no cost, but to ensure your seating, please order your tickets in advance on the Maupintown website; visit: Schedule and Tickets.

MARK YOUR CALENDAR - Independence Day in Scottsville, 04 July 2018: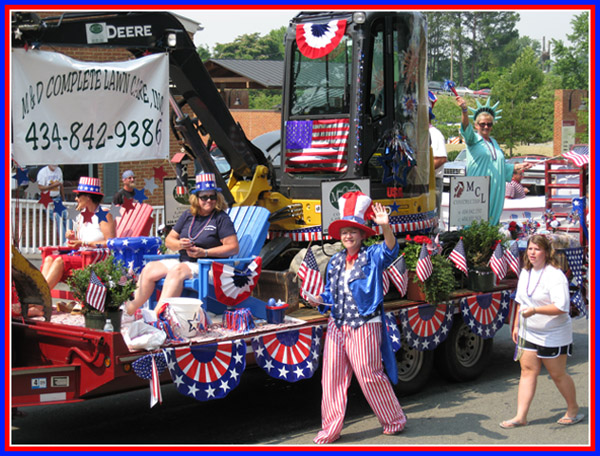 Fourth of July Parade in Scottsville


The Fourth of July is a day for family fun, and Scottsville is once again the place to be. This holiday falls on Wednesday this year, and by 8 am, festive crowds will begin forming on the Museum's front lawn to be ready for the parade that starts down Valley and Main Streets at 9 am Please join us to watch the Scottsville Volunteer Fire Department's parade which will proceed from James River Road (east) down Valley Street (Route 20) to East Main Street (Route 6).

During the mid-day, stay in town and explore our trails, shops, and restaurants. At 6 pm, enjoy a free music concert at Dorrier Park featuring Chamomile & Whiskey and friends with Craig Dodson. Pack a picnic and a blanket and enjoy this live music concert in the Park. Following the concert at dusk (usually about 9:00 pm) in Dorrier Park is Scottsville's annual fireworks display over the river. Parking is available throughout the town and look for additional parking Uptown (near Food Lion) and across the James River bridge. For advance traffic plans, contact the Town of Scottsville at info@scottsville.org .

The Museum will be open from 10 am until 5 pm on 4 July. Do plan to come to Scottsville and join this annual and very fun celebration of our country's independence!

Historic Moon Photos Donated to Museum By Cenie Re Sturm:

Recently Cenie Re (Moon) Sturm of Scottsville let the Museum scan 10 historic photos from her Moon family in Albemarle County. These photos contained portraits of her Moon ancestors that date from Robert Barclay Moon (1821-1891; see photo at right) to that of Frank Russell Moon, Sr. (1875-1955). These Moon photos give faces to interesting people and pieces of the local history of the Scottsville area. Thank you so very much, Cenie Re, for sharing these photos with Scottsville Museum!

Following is a list of the ten Moon individuals, who are the subject of these historic photos, and brief details about that person. To see the photo of a Moon on this list and to learn more about him/her, please click on the highlighted name of interest below.

James Nelson Moon(1836-1898): James was a member of Mosby's Rangers during the Civil War. After the War, he married Cary Ann Coleman, and they lived at Shirland near Scottsville.

Edmonia Harris Moon (1851-1908): Edmonia was the first single woman Baptist missionary and went to Northern China in 1872. Edmonia's sister, Lottie Moon, joined her in China as a missionary in 1873.

Elizabeth Tompkins Moon (1826-1891): Elizabeth married John Schuyler Moon, and they lived at Stony Point near the current Scottsville water tower.

Robert Barclay Moon (1821-1891) and Mary Barclay (Massie) Moon (1822-1911): Robert served as the magistrate of Albemarle County and also as County Surveyor.

Mary Barclay (Moon) Nicol (1870-1943): Mary lived at Shirland near Scottsville and was the daughter of James Nelson Moon and Cary Ann (Coleman) Moon. In 1903, Mary married John Aylett Nicol of Manassas, VA.

John Barclay Moon (1849-1915): John lived at Dunlora, 7 miles from Scottsville, and served as a member of the Virginia House of Delegates and also as Chairman of Albemarle County Board of Supervisors. John married Marion Gordon Dabney in 1878 in Albemarle Co., VA.

Lilla Moon (1854-1929): Lila was the daughter of John Schuyler Moon and Elizabeth (Tompkins) Moon and lived at Stony Point near what is now the Scottsville water tower. In 1870, Lila lived wIth her parents and siblings to Snowden in Buckingham Co., VA.

Cary Ann (Coleman) Moon (1840-1920): Cary was the wife of James Nelson Moon, a Mosby Ranger in the Civil War, and they lived at Shirland near Scottsville.

Isaac Anderson Moon (1836-1930): Isaac was the 6th son of Edward Harris Moon and Anna Maria (Barclay) Moon, who lived at Viewmont near Carters Bridge, VA. Isaac was the brother of Lottie and Edmonia Moon, who were missionaries to China in the 1870's.

Frank Russell Moon, Sr. (1875-1955): Frank was born at Shirland, the son of James Nelson Moon and Cary Ann (Coleman) Moon. He married Annie Dunscomb Horsley, and they lived at Travelers Rest in Buckingham Co.


The Scottsville Sun Online!

Scottsville Museum is pleased to announce that 40 editions of the 1952 Scottsville Sun newspaper are now online on our website! During this past summer, Scottsville resident, Robert K. Spencer, shared his collection of these newspapers for scanning and research use by the Museum. Nicole Penn, our 2015 intern from the University of Virginia's Institute for Public History (IPH), scanned Mr. Spencer's newspapers for the Museum and created finding aids for each newspaper dating from 1952-1960s. Museum staff just completed processing the 1952 newspapers for online use and will continue processing the rest of the newspapers for upload to our website over the next few months.

The Scottsville Sun was organized in October 1951, thanks to the efforts of Scottsville's Lions Club, and was published by the Amherst Publishing Company. The newspaper's first editor was J. Bernard McDearman, and its first managing editor was Elizabeth Wimer. As a newspaper dedicated to serving the Scottsville community living in Albemarle, Fluvanna, and Buckingham counties, the Scottsville Sun covered local news and events in addition to publishing columns on subjects ranging from politics, to farming techniques, to housekeeping advice. This newspaper maintained a circulation of roughly 500 to 1000 readers, and was active from 1951 into the 1960's.

Kudos to Nicole for her excellent internship product, and special thanks to UVA's Music Library which allowed Nicole to use their large format scanner to complete our project! To learn more about this project and view scanned images of these newspapers, please visit: The Scottsville Sun.

Business Ledgers of Scottsville Area, 1817 - 1926: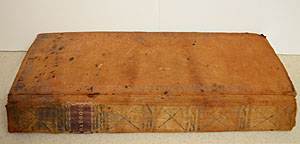 Shown at right is the Fleming Turner Daybook, dated 1822-1827, that details the products and daily costs of Mr. Turner's farm in New Canton, Buckingham County, VA. This ledger is one of approximately 45 historic ledgers of local farms and businesses for the time period 1817 - 1926 which are preserved in the collections of Scottsville Museum. Thanks to the dedicated efforts of Sydney Morgan and Julia Spong, Institute for Public History interns at the Museum in 2012-2013, these ledgers were photographed and collection finding aids developed for 20 of them. Each ledger includes an inventory of the ledger contents, a detailed name index of business and patron names, and the research results on the farm and/or business owner who recorded transactions in that ledger. These finding aids have been added to our Museum website, and to learn more, please visit, Ledgers.

New Educational Activities For Kids: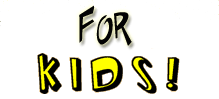 Scottsville Museum is proud to announce we have added new educational activities to our web site for children in Grades 3 and 4. These activities are based on six selected themes in Scottsville's history from 1732 to present: The Monacans; A Community Begins (1744-1762); Batteau Era; Canal Era (1830-1881); Civil War (1861-1865); and Floods. These activities were created by Rachel Gottlieb, a former Institute For Public History intern at the Museum, who earned a Masters of Teaching from the University of Virginia. Rachel's online educational materials include a teacher's guide, historical fact sheets for each theme, and activities that may include role playing, critical thinking, comparing and contrasting exercises, and matching games. Rachel geared these activities to Virginia's Standards of Learning (SOL) for Grades 3 and 4. These activities will be available online for parents and teachers seeking supplemental educational materials to teach local Virginia history, geography, government, and critical thinking. Thank you, Rachel, for sharing your superb teaching skills with students of Albemarle County history!

To explore these new educational activities for kids, please visit More Activities.