All photographs are by Charlotte Geary.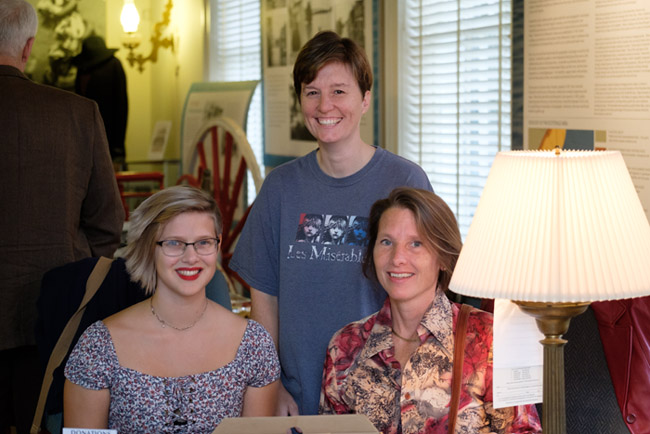 Greeting each Tour's visitors at the Museum were (L to R) Alana Bittner, Lizz Koedam, and Lisa Bittner. Lisa also served as co-director of the 2017 Twilight Tours along with Terri Long.
| | |
| --- | --- |
| | |
| Barry Grove, Tour Guide | Irene Ballowe, Tour Guide |
Other Museum volunteers serving as tour guides were Daniel Gritsko, Bruce Lugn, B. Maxwell, and
Mike West. Volunteer Jack Maxwell served as traffic safety manager during the Twilight walking tours.
Isaac A. Coles, reenacted by Kit Decker, is shown in his 1826 law office. Isaac was born in 1780 at Enniscorthy,
the Coles family home in southern Albemarle County. He graduated from the College of William and Mary and became
a lawyer in Albemarle. Living nearby the Coles family was Thomas Jefferson, who considered Isaac Coles to be a close
friend, and Isaac served as Thomas' private secretary from 1805-1809. After serving as an officer during the War
of 1812, Isaac became a politician in the "Era of Good Feelings" (post War of 1812). Isaac inherited and lived at
the Eniscorthy plantation with his family after his father's death in 1808.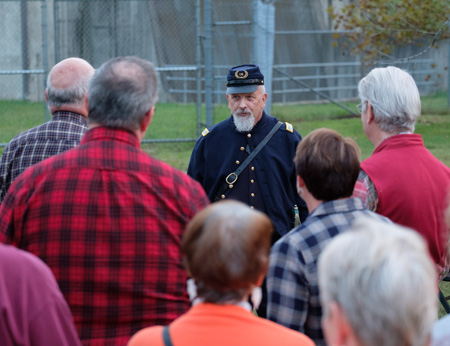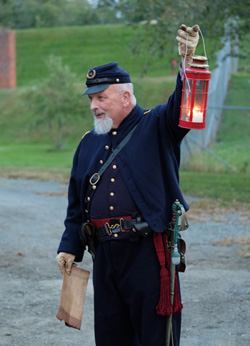 Robert Talbott portrayed Colonel George Westcott of the Union Army as he encountered a crowd of Scottsville citizens
(our tour group) approaching a Union picket site along the James River Canal in town. It is March 6, 1865, and calvary
from Union General Sheridan's army have just captured Scottsville with orders to destroy the James River Canal, bridges,
mills, manufactories, and rebel food stores. Col. Westcott approached our tour group with a hand on his holster and
a stern look in his eye He demanded that we take our hands out of our pockets, provide identifying information about
ourselves, and tell him why we were walking about the Union's picket line. Suddenly, thunderous sounds of trotting
horses nearby were heard...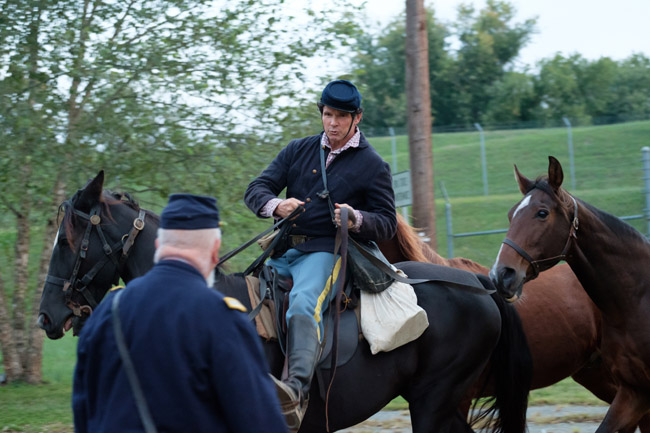 A Sergeant from the 2nd US Reg Cavalry, portrayed by Al Underwood, dashed to a stop by our picket, and stated,
"Colonel Westcott, I found these two Rebel horses grazing along the river! We can make good use of them
in our calvary!!" "Good work, Soldier!" Col. Westcott barked. "We must head onward to Colombia soon
and do need fresh steeds!"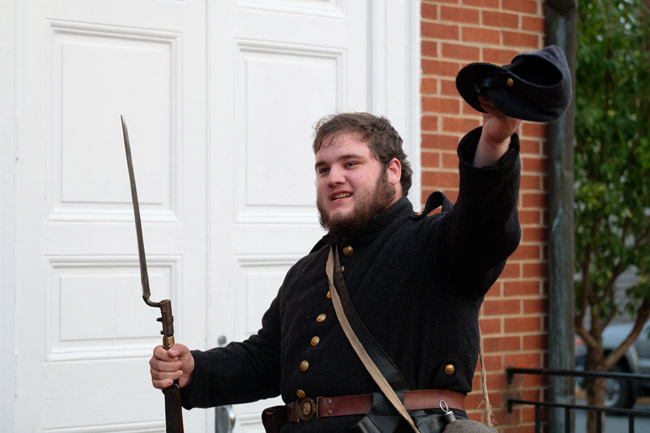 John Settle portrayed Pvt Samuel W. Moon of Confederate Co. C, 19th VA Infantry, after the Civil War
ended in 1865; John is a descendant of Samuel Moon. Samuel enlisted in the 19th VA in April 1862
and was captured at the Battle of Gettysburg in July 1863. In the above tour photo, Pvt Moon retold
his troubling experiences during the war as a Union prisoner up until his parole at City Point on 16 March
1864 in exchange for a captured Union soldier. Pvt. Moon returned to duty with the 19th VA by July
1864 and was paroled in Colombia, Virginia, at the conclusion of the Civil War. Five of Samuel's
brothers also fought for the Confederacy; only four of the Moon brothers survived the Civil War. Samuel W.
Moon is buried at the Antioch Baptist Church Cemetery, which is located 13 miles northeast of Scottsville.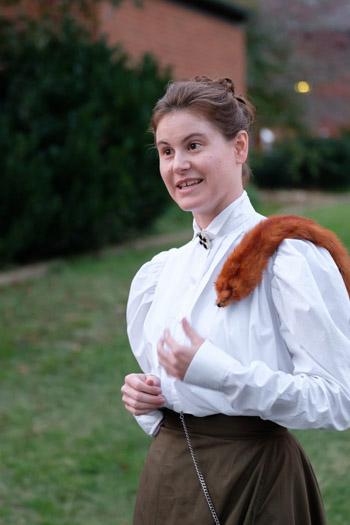 Irene Langhorne Gibson in the 1890's was reenacted by Miranda Burnett. Irene's father was
Chriswell Dabney Langhorne, who made a fortune in rail equipment and owned Mirador in
Albemarle County. Irene was beautiful and the feminine beauty ideal of the 1890's. It was
alleged that Irene turned down 60 marriage proposals before falling hard for handsome, 6'2"
Charles Dana Gibson, who was an illustrator. When Irene told her father about Dana, Mr.
Langhorne did not favor him as her husband because Gibson was a Yankee and his job as an
illustrator was not up to Langhorne standards and had a sporadic income. However, Dana
came by carriage to Mirador to ask Mr. Langhorne for his daughter's hand. All went well,
although Langhorne continued to call Dana a "damned Yankee" to tease him. Dana Gibson
and Irene Langhorne were married on 7 November 1895 in Richmond, and the wedding was
so publicized that thousands of ordinarily polite Richmond citizens gathered outside St. Paul's
Church to watch the participants arrive. Shortly after their wedding, Dana and Irene took
off to Europe for a year-long honeymoon. Upon their return to the U.S., they lived happily
in New York where Dana had a long and successful career as an artist.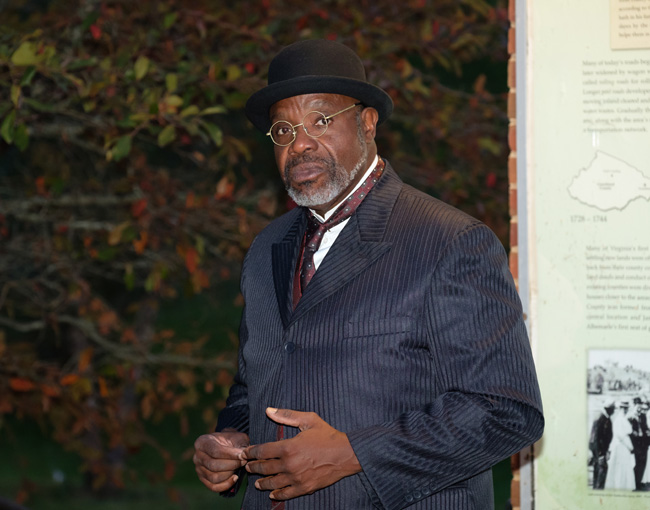 Richard Morris portrayed B.F. Yancey (1870-1915), an African-American educator in Esmont. Mr.
Yancey gave an impassioned speech about how the future begins in our classrooms. The first school
for African Americans in Esmont was organized in 1874. The land for this school was donated by a
former slave, and the first school building was a log cabin. Mr. Yancey was the first Principal for
Esmont Schools, and he worked hard and successfully to improve education for the rural black
community. Many obstacles had to be overcome to achieve his education goals including financial
ones. Thanks to the efforts and inspiration of Mr. Yancey, the Esmont community remains devoted
to progress through education to this day.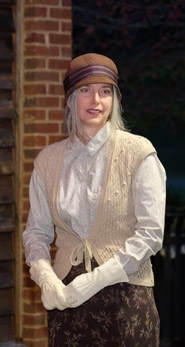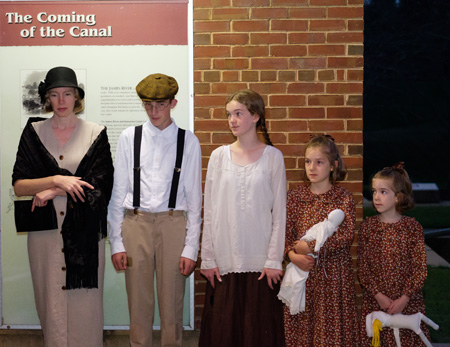 Terri Long, Sarah Gill, Thomas Gill, Laurel Gill, Emily Gill, and Eliza Gill (L to R) reenacted a family
reminiscent of the Hamner Family of Schuyler, who shopped in Scottsville for their life necessities
during the Great Depression. Many of the Hamner men worked in the Alberene Soapstone Quarry
during the Depression, and during visits to Scottsville, the Hamners had to make do--there wasn't
any spare change for candy for the kids or comic books. In the family depicted, the older Hamner
siblings were left with little or no option but to distract their younger siblings from such luxuries
while their mother was trying to shop for the family's food in Scottsville.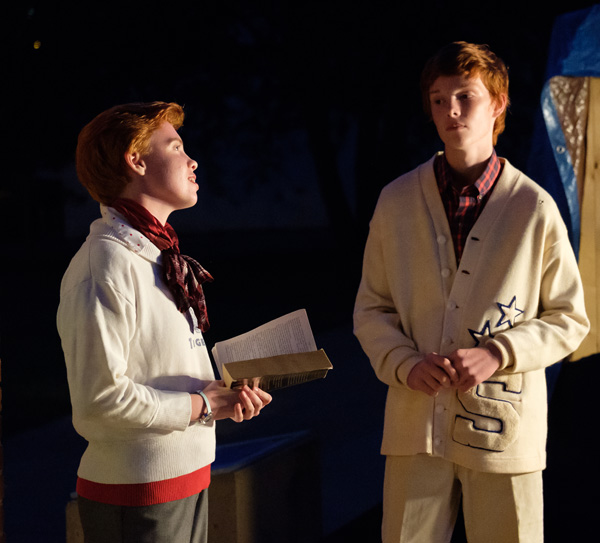 Depicting two teenyboppers in Scottsville High School's (SHS) Class of 1956 were (L to R) Kate Decker
and Liam Decker. In 1956, Scottsville was swarming with SHS teenyboppers sharing gossip and news.
SHS letter sweaters and sports also were hugely popular, and the school's big athletic rivals were
the 'Persimmon Eaters!' from Fluvanna Co.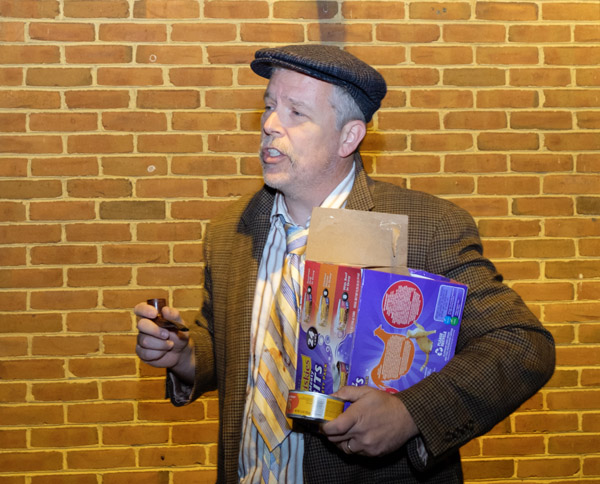 Ralph Lewis reenacted Jack Manahan, Scottsville's beloved eccentric in the 1970's. Jack earned multiple
degrees from the University of Virginia including a doctorate in history. He also taught for UVA's Extension
Division (now Continuing Education) from 1948-1955. In 1968, Jack married Anna Anderson, who was
21 years his senior and claimed to be the long-lost Russian Grand Duchess Anastasia. Jack set about
researching his wife's genealogy, and though he referred to himself frequently as the "Grand Duke-in-
Waiting" or "Son-in-law to the Tsar", neither he or Anna were ever able to prove she was a Romanov.
Jack inherited various properties after his parents died in 1966, including Fairview Farm, a 600-acre estate
just outside of Scottsville. Although Jack was wealthy, he and Anna lived in disheveled squalor at
Fairview Farm with a house overflowing with cats and more than 41 dogs. As Jack demonstrated during
the Twilight Tour, he was always buying many bags and cans of cat and dog food per Anna's request. Anna
passed away in February 1984 and Jack, in 1990.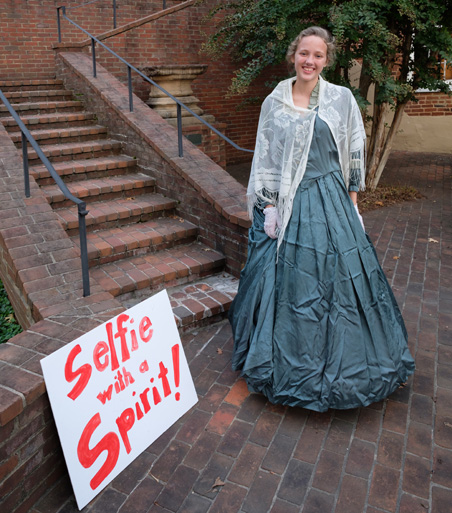 As tour groups walked around Main Street, devoted Museum volunteer,
Shannon Bittner, provided our Twilight Tour visitors with an opportunity
to take a selfie with a 'Spirit', who was dressed in a beautiful dress
from the Civil War era.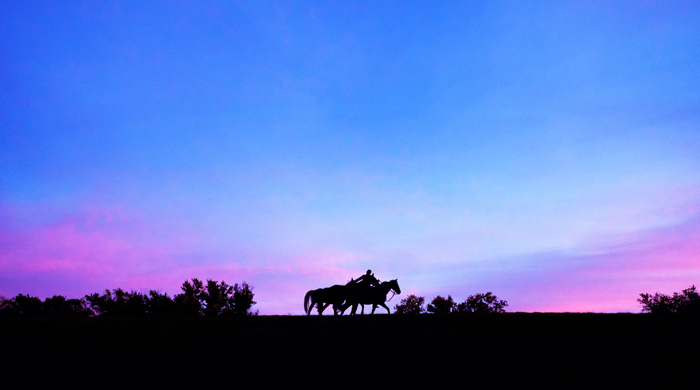 As the horses headed west on the Scottsville dike and the sun set on Sunday night, October 22,
the 2017 Twilight Tours came to a most successful conclusion. Thanks to all of our tour takers,
actors, and Twilight Tours support team for a most successful Museum event. We look forward
to seeing you all again in October 2018 for another tour through Scottsville history!