Docent Tea, 26 March 2017

Docents (L to R): Ruth Klippstein, Leanne Grove, and Connie Geary

Leanne Grove, Docent Coordinator for Scottsville Museum, hosted an appreciation reception for Museum docents at her Scottsville home on Sunday, March 26. A wonderful afternoon of friendship and museum discussion ensued. Leanne reviewed opening and closing procedures for the Museum and the training sessions she's planning for new docents to include a session for any docents who would like some refresher training. Our President Evelyn Edson discussed the Museum's opening for the 2017 season on Sunday, 9 April at 2 pm. She also briefed us on the School display the Museum will add to our current exhibit in mid-summer commemorate the history of Scottsville High School. We are pumped up for the 2017 season -- thank you, Leanne and Evelyn!
President Evelyn Edson and Ron Smith
Each year over forty volunteers volunteer their time each month to serve as docents at the Museum. Our docents' donation of time allows the Museum to continue our free admission policy for the public from April through October each year. If you would like to become a Museum docent, please call Leanne at (434-286-4840) or contact us via e-mail at: smuseum@avenue.org.
Scottsville's Post Office and Postmasters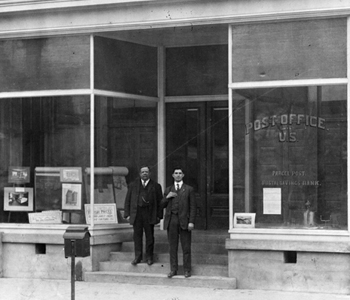 U.S. Postmaster Samuel R. Gault and his assistant, Ashby Mayo, stand in front of the Scottsville Post Office which was located in the Masonic Building on Main Street as shown in this 1920 photo at left. The Masonic Building was built in 1914 and hosted Scottsville's post office on the bottom floor until 1964 when the post office moved to its next location on West Main Street. Sam Gault served as Scottsville's postmaster from 1893 to 1939; he was succeeded by Ashby Mayo, who retired as postmaster in 1958.
To learn more about Samuel Gault, Ashby Mayo, and other Scottsville postmasters from 1814-2015 and the various town buildings that housed the Post office in Scottsville during this time frame, visit
Scottsville's Post Office and Postmasters.
W.F. Paulett and Son, Inc.

The photo at left shows the Scottsville business named W.F. Paulett and Son, Inc., which was built in 1914 by William F. Paulett in a lot on Main Street between the Methodist Church and the Disciples of Christ Church (now Scottsville Museum). This three-story building was a building supply store that cut lumber for sale to its patrons as well as supplied other building needs. All three floors were accessible by truck, and the first floor was where customers bought their nails and other building hardware. The second floor contained the saw mill which cut and planed the wooden boards. On the third floor, the Pauletts laid the products that were to be trucked out to its customers.
To learn more about this business and its owners and the unexplained catastrophe that struck this business on 28 February 1976, visit W.F. Paulett and Son, Inc.
Disastrous Fires on Scottsville's Main Street, 1976


This photo of the intersection of Valley Street (left) and Main Street (right) shows the Esso Station, run by Gene Johnson, occupying the lot west of the Travelers Rest Hotel. The Omohundro Hardware Co. occupied the bottom floor of the hotel in 1976. On the night of 26 February 1976, a disastrous fire consumed this hotel and hardware company, burning them to the ground along with the adjoining filling station. Two nights later on 28 February 1976, a second fire began on the same block, causing even more costly damage than the first fire.
To learn more about these two disastrous fires in Scottsville and the investigation that followed, visit
Two Large Fires Raged On Scottsville's Main Street, February 1976.
Virginia Moore, reenacted by Miranda Burnett, as she stands beside her 1931 Ford Model A Coupe.
Twilight Tours Through Scottsville History, 22-23 October 2016:
The Scottsville Museum hosted its 4th annual "Twilight Tours Through Scottsville History" the weekend of Oct. 22nd and Oct. 23rd. The project, led by Museum Board Member Miranda Burnett and staged by local actors, was an immense success, drawing over 200 visitors and raising more than $1,100 for the Museum during the two-night event. This year's tour featured seven characters ranging from the 1620s to the 1950s and included a batteau boat, an antique car, and a rousing rendition of "You are my Sunshine."
To see additional photos of Twilight Tours reenactors and guides, visit
Twilight Tours 2016.
Twilight Tours Through Scottsville History, 22-23 October 2016:
Scottsville Museum is proud to announce a guided tour through Scottsville's history which will be presented on Saturday and Sunday, 22-23 October. The project is led by Museum Board member, Miranda Burnett, and staffed by volunteer guides and local actors and actresses. Come and take a lamplight stroll through historic Scottsville. With your tour guide, you will encounter town residents from bygone eras. Hear their tales and recollections, see notable places and people brought to life from the pages of history. Listen as Etta Harris recounts her doomed romance, and experience goosebumps in the telling of the Moon ghost. Enjoy a performance from Sunshine Sue at Victory Hall, and witness Virginia Moore's first arrival in Scottsville. Three other historical figures in the Scottsville area complete the cast and cover events from the Civil War through World War II. Your guided stroll will take you past landmarks such as the Barclay House, Scottsville Methodist Church, Canal Basin Square, and Victory Hall Theatre.

Tours depart every 20 minutes from the Scottsville Museum and last approximately an hour. Ticket prices are $5.00 and proceeds go to the Scottsville Museum, a non-profit organization dedicated to the preservation of Scottsville's history.




Condolences on the Passing of Raymond Thacker, 11 April 2016:
"I just wanted to send my condolences to all of you who so appreciated Raymon Thacker, on his passing last Feb. at the age of 106."
"We came to Scottsville when Raymon was 99, looking for the echoes of our family past. He was wonderful, giving us a tour of the Scottsville Museum, telling us about our tie in with the Barclay House and Sen.Thomas Staples, and how the Staples sisters were the ones who were the sisters on Walton's Mountain, making "Pappa's Recipe". He helped make some of our family history come alive for me with his knowledge and stories. I know from reading the Scottsville Museum Newsletter how instrumental he was in the work of the Museum, the government of Scottsville, and in preserving the history of the area. We know that our family member, Beverly, owned a mill west of town, was a trustee when the decision was made to build the church they attended, and that he lived at Spring Hill Farm, west of town, during the Civil War. Scottsville, I am sure, was at a center of much of his parents' lives and his families' lives. Raymon helped us understand that. I just wanted to share again, my appreciation for Raymon. He was a marvelous representative of Scottsville!" Kathy Herrick, The Villages, FL.
Museum's Spring Opening Reception, 03 April 2016:

Dr. William Trout and Nancy Koenig discuss batteau history on the Museum's front steps.
Scottsville Museum reopened for the 2016 season on Sunday, April 03, with its current exhibit, "Where the River Bends: Scottsville on the James.". The opening program featured a new display with two large pieces of a mid-19th century batteau/canal boat discovered in the Rappannock River and now on loan to the Museum from Fauquier History Museum in Warrenton. Dr. William Trout of the Virginia Navigation and Canal Society of Virginia provided an interesting explanation of this batteau's history and the construction differences between it and the James River batteau.
Also featured in the opening program was the "Mystery Painting" by Scottsville artist, Elias Kanarek, of Eddie Rickenbacker and two of his crewmen in a life raft after their plane crashed during World War II. Ruth Klippstein spoke on the most interesting results of her research on this Museum artifact. President Evelyn Edson spoke about the restoration and history of Mary Browne Bruce's dress which she wore at the 1910 wedding of Scottsville High School's Principal, William Day Smith, and Annie Parker Harris. The expert restoration of this dress was accomplished by Museum volunteer, Miranda Burnett. To conclude the Spring Opening, delicious punch and pastries from Crust and Crumb were served to all attendees!
To see more photos of this opening program, visit Spring Opening 2016.
Scottsville Museum will be open from now through October, Saturdays from 10 am to 5 pm and Sundays from 1-5 pm. It will also be open on Memorial Day, Batteau Day (June 22), and July 4th, or by appointment. Our current exhibit, "Where The River Bends," describes Scottsville's relationship with the James River. Admission is free; donations are gratefully accepted.
MARK YOUR CALENDAR: Scottsville Museum Spring Opening, 03 April 2016:

Painting of Rappahannock Canal Boat by Les Moffett, Fauquier History Museum


On Sunday, 03 April, Scottsville Museum reopens for the 2016 season with its current exhibit, "Where the River Bends: Scottsville on the James." The exhibit displays the role the river has played in Scottsville's history from its earliest residents, the Monacans, to present day. Sunday's opening program will highlight Scottsville's "Mystery Painting" by Polish-American painter, Elias Kanarek, and attendees will learn more about this painting's story and its artist who lived in Scottsville when he painted it. Also on display will be pieces of a mid-19th century batteau/canal boat, discovered in the Rappahannock River in 1953. These pieces reveal much about the construction of these boats, which were an important part of Scottsville's history. This boat display is courtesy of the Fauquier History Museum. Another addition to our exhibit is the dress worn by Scottsville's Mary Browne Bruce at the 1910 wedding of Scottsville High School's Principal, William Day Smith, and Annie Parker Harris. Mrs. Bruce was the wife of Scottsville's pharmacist, Thomas Ellison Bruce, and her dress was lovingly restored by Museum volunteer, Miranda Burnett.

On Sunday, 03 April, the Museum opens at 2:00 pm. Admission is free, and refreshments will be served! We look forward to seeing you at the Museum!

The Scottsville Sun Online!


Scottsville Museum is pleased to announce that 40 editions of the 1952 Scottsville Sun newspaper are now online on our website! During this past summer, Scottsville resident, Robert K. Spencer, shared his collection of these newspapers for scanning and research use by the Museum. Nicole Penn, our 2015 intern from the University of Virginia's Institute for Public History (IPH), scanned Mr. Spencer's newspapers for the Museum and created finding aids for each newspaper dating from 1952-1960s. Museum staff just completed processing the 1952 newspapers for online use and will continue processing the rest of the newspapers for upload to our website over the next few months.

The Scottsville Sun was organized in October 1951, thanks to the efforts of Scottsville's Lions Club, and was published by the Amherst Publishing Company. The newspaper's first editor was J. Bernard McDearman, and its first managing editor was Elizabeth Wimer. As a newspaper dedicated to serving the Scottsville community living in Albemarle, Fluvanna, and Buckingham counties, the Scottsville Sun covered local news and events in addition to publishing columns on subjects ranging from politics, to farming techniques, to housekeeping advice. This newspaper maintained a circulation of roughly 500 to 1000 readers, and was active from 1951 into the 1960's.

Kudos to Nicole for her excellent internship product, and special thanks to UVA's Music Library which allowed Nicole to use their large format scanner to complete our project! To learn more about this project and view scanned images of these newspapers, please visit: The Scottsville Sun.

Business Ledgers of Scottsville Area, 1817 - 1926: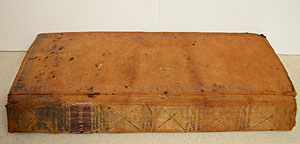 Shown at right is the Fleming Turner Daybook, dated 1822-1827, that details the products and daily costs of Mr. Turner's farm in New Canton, Buckingham County, VA. This ledger is one of approximately 45 historic ledgers of local farms and businesses for the time period 1817 - 1926 which are preserved in the collections of Scottsville Museum. Thanks to the dedicated efforts of Sydney Morgan and Julia Spong, Institute for Public History interns at the Museum in 2012-2013, these ledgers were photographed and collection finding aids developed for 20 of them. Each ledger includes an inventory of the ledger contents, a detailed name index of business and patron names, and the research results on the farm and/or business owner who recorded transactions in that ledger. These finding aids have been added to our Museum website, and to learn more, please visit, Ledgers.
New Educational Activities For Kids:

Scottsville Museum is proud to announce we have added new educational activities to our web site for children in Grades 3 and 4. These activities are based on six selected themes in Scottsville's history from 1732 to present: The Monacans; A Community Begins (1744-1762); Batteau Era; Canal Era (1830-1881); Civil War (1861-1865); and Floods. These activities were created by Rachel Gottlieb, a former Institute For Public History intern at the Museum, who earned a Masters of Teaching from the University of Virginia. Rachel's online educational materials include a teacher's guide, historical fact sheets for each theme, and activities that may include role playing, critical thinking, comparing and contrasting exercises, and matching games. Rachel geared these activities to Virginia's Standards of Learning (SOL) for Grades 3 and 4. These activities will be available for children visiting Scottsville Museum in 2012 and online for parents and teachers seeking supplemental educational materials to teach local Virginia history, geography, government, and critical thinking. Thank you, Rachel, for sharing your superb teaching skills with students of Albemarle County history!

To explore these new educational activities for kids, please visit

More Activities.