Tribute to A. Raymon Thacker, 21 February 2016:

Arthur Raymon Thacker, longtime Mayor of Scottsville and its savior from future flooding, passed away on Sunday, 21 February 2016, at the age of 106. Raymon was born on 14 October 1909 in Stuarts Draft, VA, and was the son of Arthur Lewis Thacker and Edna Bell (Carey) Thacker. The Thacker family moved to Scottsville in 1911 via horse-drawn carriage, and Scottsville has been Raymon's home since that time. Raymon is survived by his loving wife, Arbutus May (Deihl) Thacker, and their son, Matthew Lewis Thacker and wife, Donna, all of Scottsville; his daughter, Virginia Lee Bishop and husband, Arthur, of Yorktown, VA; his son, Cary James Thacker and wife, Arlene (Napier) Thacker of Charleston, SC; and many grandchildren, great grandchildren, and great-great grandchildren.
Funeral Services will be conducted at 2 p.m. on Friday, February 26, 2016, in the chapel of Thacker Brothers Funeral Home, Scottsville, by Rev. Peter Way and Rev. James Jetton. Internment with Masonic Rites will follow in the Scottsville Cemetery.
Raymon and his brother, Homer, operated Thacker Brothers Funeral Home in Scottsville for 57 years. Raymon also served on the Scottsville Town Council for 6 years before being elected Mayor of Scottsville, a position he held for 30 1/2 years. As Scottsville's Mayor, he organized its Volunteer Fire Department and Rescue Squad, and the local Lions' Club. Raymon's legacy as the town's longest-serving mayor includes building a modern public water and sewage system in Scottsville; extending the town's boundaries so it continues to change and grow; and being the inspiration and persistence behind building the A. Raymon Thacker Levee that was dedicated in 1990. Since 1990, Scottsville has not been flooded, thanks to the Thacker Levee.
Raymon also worked with the Tompkins family to acquire the old Disciples of Christ Church in Scottsville and immediately converted it to the Scottsville Museum and Historic Landmarks Foundation. Working with Virginia Moore and Robert Walls, Raymon turned the old church into a wonderful Museum of Scottsville's history, dedicating the Museum in 1970. He served on the Museum's Board of Trustees from 1970 until his passing. Raymon's memory of Scottsville citizens and local events was remarkable, and he was always available to provide local history information including historical photos of Scottsville and its citizens. Thank you, Raymon, for your vision and stellar efforts to preserve the historic heritage of Scottsville!
To read a very caring article about Mr. Thacker by Ruth Klippstein and see additional photos, visit A. Raymon Thacker, Scottville's Mayor Emeritus.

Resolution of the Board of Trustees, Scottsville Museum
Whereas, A. Raymon Thacker was one of the founders of the Scottsville Museum, and whose vision for our town included the preservation of its historic heritage;
And, whereas, he acted as a great resource for our historical collections, passing onto the Museum countless priceless objects and photographs;
And, whereas, he was ever willing to participate in oral history events, recalling the past century of his life in Scottsville;
And, whereas, he remained a member of the Museum Board up until the date of his passing,
Be it resolved, that the members of the Scottsville Museum Board, undersigned, do honor his memory with gratitude for his many contributions and continued good will.
| | | |
| --- | --- | --- |
| Miranda Burnett | Evelyn Edson | Connie Geary |
| Leanne Grove | Ruth Klippstein | Fannie Louden |
| Graham Paige | Marianne Ramsden | Marilyn Schwarz |
| Robert Schwarz | Ron Smith | Robert Tharpe |
| | H. B. Thomson | |

Yesteryears: Mystery Painting at the Museum, 13 February 2016:

The Scottsville Museum archives house a large, life-size painting of three desperate men afloat in a life raft, along with a seagull descending on them. The painting is by Polish painter, Elias Kanarek (1901-1969), and accompanying the painting is a framed copy of a letter from Eddie Rickenbacker, the famous World War II flying ace and Medal of Honor recipient.
During World War II, Rickenbacker and two airmen were involved in an airplane crash and wound up floating on rafts in the Pacific Ocean for three weeks. He an his crew survived by eating fish and drinking rainwater, until rescued. And one day a seagull came along and landed on Rickenbacker's head.
To learn more about this painting, Rickenbacker's memory of the seagull, and Mr. Kanarek, read the first part of David Maurer's article in The Daily Progress, dated 13 February 2016 and entitled, "Yesteryears: Mystery Painting, Part I".
The second part of David's article in The Daily Progress, dated 20 February 2016, may be read at "Yesteryears: Mystery Painting, Part II"
The Scottsville Sun Online!


Scottsville Museum is pleased to announce that 40 editions of the 1952 Scottsville Sun newspaper are now online on our website! During this past summer, Scottsville resident, Robert K. Spencer, shared his collection of these newspapers for scanning and research use by the Museum. Nicole Penn, our 2015 intern from the University of Virginia's Institute for Public History (IPH), scanned Mr. Spencer's newspapers for the Museum and created finding aids for each newspaper dating from 1952-1960s. Museum staff just completed processing the 1952 newspapers for online use and will continue processing the rest of the newspapers for upload to our website over the next few months.

The Scottsville Sun was organized in October 1951, thanks to the efforts of Scottsville's Lions Club, and was published by the Amherst Publishing Company. The newspaper's first editor was J. Bernard McDearman, and its first managing editor was Elizabeth Wimer. As a newspaper dedicated to serving the Scottsville community living in Albemarle, Fluvanna, and Buckingham counties, the Scottsville Sun covered local news and events in addition to publishing columns on subjects ranging from politics, to farming techniques, to housekeeping advice. This newspaper maintained a circulation of roughly 500 to 1000 readers, and was active from 1951 into the 1960's.

Kudos to Nicole for her excellent internship product, and special thanks to UVA's Music Library which allowed Nicole to use their large format scanner to complete our project! To learn more about this project and view scanned images of these newspapers, please visit: The Scottsville Sun.

Business Ledgers of Scottsville Area, 1817 - 1926: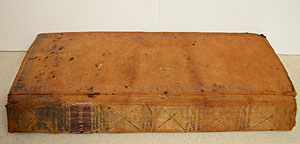 Shown at right is the Fleming Turner Daybook, dated 1822-1827, that details the products and daily costs of Mr. Turner's farm in New Canton, Buckingham County, VA. This ledger is one of approximately 45 historic ledgers of local farms and businesses for the time period 1817 - 1926 which are preserved in the collections of Scottsville Museum. Thanks to the dedicated efforts of Sydney Morgan and Julia Spong, Institute for Public History interns at the Museum in 2012-2013, these ledgers were photographed and collection finding aids developed for 20 of them. Each ledger includes an inventory of the ledger contents, a detailed name index of business and patron names, and the research results on the farm and/or business owner who recorded transactions in that ledger. These finding aids have been added to our Museum website, and to learn more, please visit, Ledgers.
New Educational Activities For Kids:

Scottsville Museum is proud to announce we have added new educational activities to our web site for children in Grades 3 and 4. These activities are based on six selected themes in Scottsville's history from 1732 to present: The Monacans; A Community Begins (1744-1762); Batteau Era; Canal Era (1830-1881); Civil War (1861-1865); and Floods. These activities were created by Rachel Gottlieb, a former Institute For Public History intern at the Museum, who earned a Masters of Teaching from the University of Virginia. Rachel's online educational materials include a teacher's guide, historical fact sheets for each theme, and activities that may include role playing, critical thinking, comparing and contrasting exercises, and matching games. Rachel geared these activities to Virginia's Standards of Learning (SOL) for Grades 3 and 4. These activities will be available for children visiting Scottsville Museum in 2012 and online for parents and teachers seeking supplemental educational materials to teach local Virginia history, geography, government, and critical thinking. Thank you, Rachel, for sharing your superb teaching skills with students of Albemarle County history!

To explore these new educational activities for kids, please visit

More Activities.