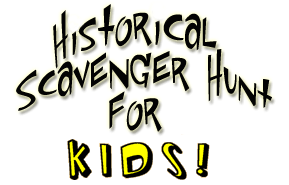 Want to get to know your town as an explorer? This activity is called 'letterboxing,' and it's a type of treasure hunt started accidentally in Southern England in 1854. According to legend, a Victorian gentleman put his "business" card in a bottle and hid it in a remote area of Dartmoor, England, to be found by curious visitors. The idea caught on, and there are now reported to be over 10,000 letterboxes in Dartmoor.

The idea came to the United States in 1998 when the Smithsonian Magazine published an article on the Dartmoor letterboxes. Letterboxes began to be placed in interesting places all over the U.S. They are hidden on public land in places that will not upset the natural features of the area. They are hidden well enough so that common passers-by will not pick up the box and walk off with it.

Three letterboxes have been hidden in Scottsville for common letterboxing folk. For the Scottsville Museum's Historical Scavenger Hunt for Kids, an additional two boxes were added to the adventure, and the course was slightly rerouted. So what you now have created just for you, is an almost one mile long letterboxing hunt with FIVE different points!

What You Will Need: A rubber stamp, an ink pad of any color, a writing utensil, a map of Scottsville found in the "Scottsville on the James" pamphlets that are all over town (check any local store on Valley Street), a print-out of the clues below, and a chaperon!

What You Do: With all of the things listed above, go to the starting point designated on your Clues List. When you find a box, try not to let non-letterboxers know what you are doing. Carefully remove the box from its location, open it up, stamp your stamp into the box's Guest book (small notepad), and then use the box's stamp to stamp your personal Log Book. You may leave a message in the Guest book next to your stamp as well. When you are finished, carefully put everything back in the box, gather up your own materials, and rehide the box exactly the way you found it, in order that other explorers may come after you and record their discoveries.

Are You Ready? Any additional questions concerning the art of letterboxing can be answered by going to the official letterboxing web site at http://letterboxing.org. Their web site will give you more clues for letterboxes hiding all over the United States, as well as teach you how to make your very own rubber stamp!

The Clues: For a complete list of clues for the five letterboxes in Scottsville Museum's Historical Scavenger Hunt for Kids, visit

Clues.
Tours are available for school groups, Scout troops, clubs, and other organizations. For additional information, please contact the Museum at info@scottsvillemuseum.com or call 434-286-2247.
Teachers and other educators can adapt these ideas to use in conjunction with visits to the Scottsville Museum:

Timeless Treasures
Students choose one of the six families in this new exhibit and explore photographs and artifacts related to that family at the turn of the 20th Century. Upon return to the classroom, students design an exhibit to depict their chosen topic at the turn of the 21st Century and describe items that they would want to include in such an exhibit. Finally they design a third exhibit to describe the changes that they predict will occur by the turn of the 22nd Century.

The James River through the ages
Students create a timeline to describe the role of the James River in the past 250 years, from early settlement, to the development of the canal, to its modern roles. The timelines will include discussions of commerce, travel, and technology.

Impact of technology
Students examine photographs and artifacts that depict the use of technology to benefit a particular purpose. Possible topics could include transportation, recreation, communication, or community service. Students draw conclusions on the impact of these technologies on living conditions, life expectancy, and economy.

The influence of geography on our community
Students describe the influence of the river, ocean, hills, and other natural surroundings on the culture, technology, and lifestyles of their community throughout a given period of time.

Comparison of childhood, past and present
Students examine toys, school supplies, and clothing of children in the early 1900s. They draw pictures or use magazine photographs to depict these items in modern times. Students then describe the similarities and differences between childhood in the past and present.